The ultimate Old School miniature golf attraction with a giant Tiki head, Sphinx, and dinosaurs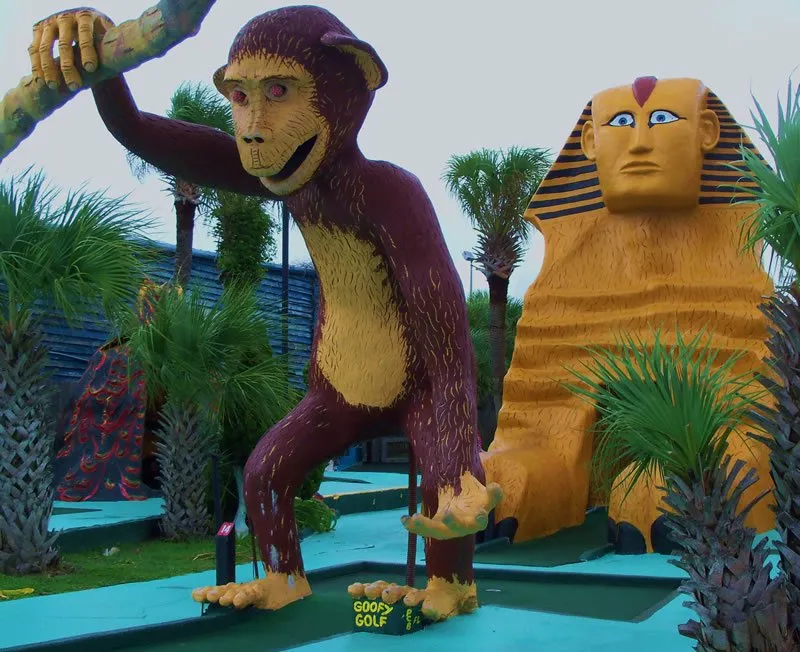 Goofy Golf is a popular miniature golf attraction located in Panama City Beach, Florida. It is a family-friendly destination that has been entertaining visitors of all ages since its establishment in 1959. This article will provide an overview of Goofy Golf, including its history, course design, attractions, and amenities.
History
Goofy Golf is a longstanding attraction in Panama City Beach that has been providing family-friendly entertainment for over 60 years. The original owner, Lee Koplin, opened the course in 1959 with a vision to create a unique and whimsical experience for visitors. Since then, the course has undergone several renovations and improvements to enhance the customer experience while retaining its classic charm. Goofy Golf has become a popular tourist attraction and an iconic landmark in the area.
Course Design
Goofy Golf features two 18-hole miniature golf courses that are designed to challenge and delight players of all skill levels. Each course is designed with a unique theme and features whimsical obstacles such as windmills, castles, and pirate ships. The courses are well-maintained and surrounded by lush greenery and colorful flowers, creating a relaxing and enjoyable environment for players. Additionally, the course is well-lit, allowing for nighttime play.
Attractions
In addition to its two miniature golf courses, Goofy Golf offers several other attractions that are sure to entertain visitors of all ages. The park features a giant T-Rex statue that greets visitors at the entrance, providing an excellent photo opportunity. Inside the park, visitors can also find a game arcade with a variety of classic and modern games. Goofy Golf also offers a snack bar with a range of delicious treats, including hot dogs, ice cream, and soft drinks. There is also a gift shop on-site, where visitors can purchase souvenirs and memorabilia to commemorate their visit.
Amenities
Goofy Golf offers a range of amenities to ensure visitors have a comfortable and enjoyable experience. The park is well-maintained and clean, with plenty of shaded areas to rest and cool off. There are also benches and tables throughout the park for visitors to relax and enjoy a snack or drink. Additionally, the staff at Goofy Golf are friendly and helpful, providing excellent customer service to visitors.
In conclusion, Goofy Golf is an iconic and beloved attraction in Panama City Beach that offers a unique and fun experience for visitors of all ages. Its history, course design, attractions, and amenities all contribute to making it a must-visit destination for anyone traveling to the area. Whether you are a seasoned mini-golf pro or a first-time player, Goofy Golf is sure to provide an entertaining and memorable experience that you won't forget.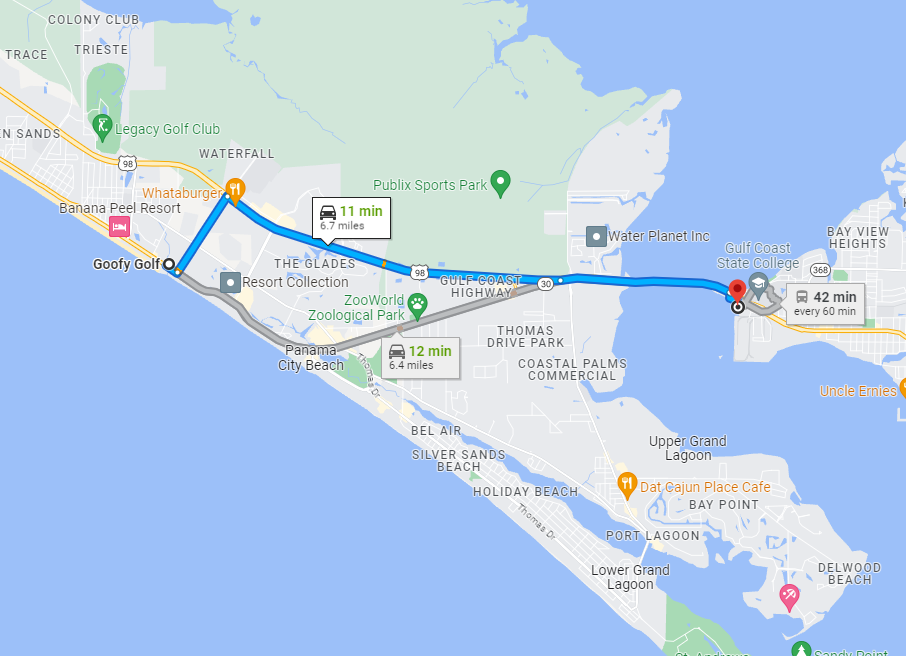 Address
5505 Sun Harbor Rd Suite 99, Panama City, FL 32401, United States
Hours
Monday – Sunday: 9.00 am to 6.00 pm