Dolphin Tour
Panama City Florida
For a perfect Dolphin Tour experience in Panama City, Florida. We literally go the extra mile (or 10) to make your dream of seeing dolphins in their natural habitat, it's true!
A personalized experience focuses on Dolphin and Snorkeling Tours. You'll be surprised to hear stories about the intelligence of these majestic creatures and learn more.
Also enjoy swimming and snorkeling the warm waters of St. Andrews Bay at Shell Island. Discover the sunken boat as you snorkel or get up close with shrimp, local blue crabs, seahorses, sand dollars, fish, hermit crabs and more.
Wild Dolphin Tours Panama City
Dolphin tracking is one of the most enjoyable activities of visitors to the Florida Gulf Coast. Relax as our captain navigates the waters near St. Andrews State Park and Panama City Pass leading to the Gulf of Mexico in search of the wild dolphins.
Panama City Dolphin Seafari
Out of the boat and into the water…
The dolphins are naturally curious and will meander around the boat to check things out.  This is your chance to get in the water in very close proximity to the wild bottlenose dolphins.  Watch and listen as they send messages to each other using creaks, whistles and body language. Did you know dolphins jump up to 20 feet in the air, pull their jaws, slap their tails on the surface of the water, all used as communication methods with other dolphins.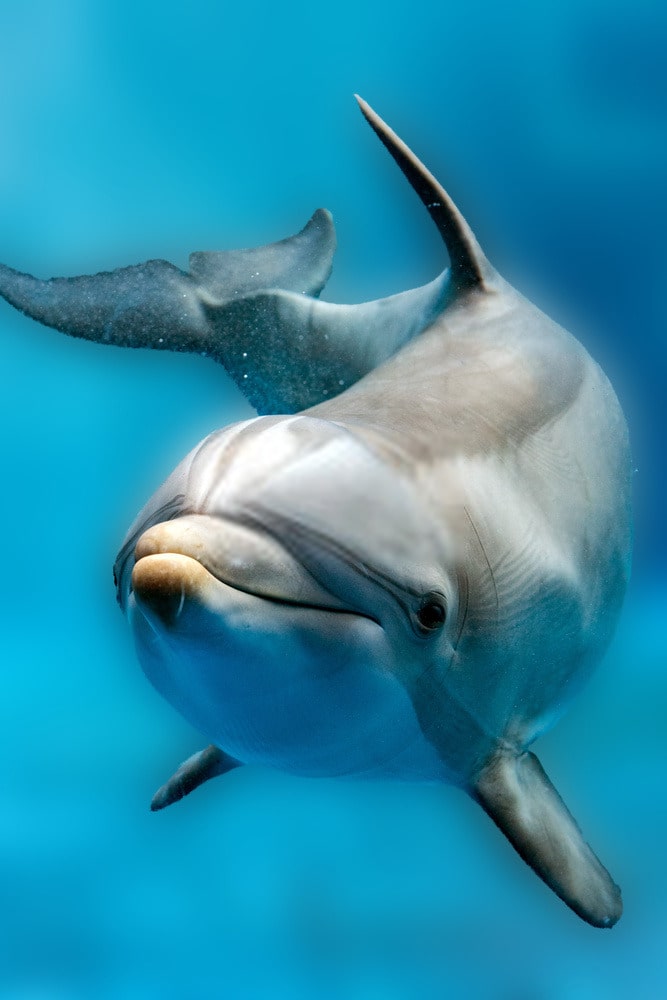 Flippers Dolphin Tours Panama City Beach Florida
Panama City Beach is known for having some of the best Dolphin encounters anywhere in the country. The dolphins are friendly and very accustomed to seeing visitors. A dolphin tour in Panama City Florida is by far the best way to see the dolphins as our guides know all the dolphin hangouts and can instruct you on safe ways to experience them in their environment. 
Book a dolphin tour in Panama City Florida today. Flippers Tours & Rentals invites you to experience our Panama City Beach Dolphin Tours (Jet Ski & Boat). For the adventurous type, we also offer Boat Rental and Jet Ski Rental. With all this action easily available and affordable, it's easy to see why Flippers Tours & Rentals is one of Panama City Beaches most popular water attractions.
So what are you going to do on your next Panama City Beach vacation? Visit Flippers Dolphin Tours that's what. Our staff cannot wait to greet you and show you an awesome time on the beautiful waters of the Gulf Coast. Remember to book your next dolphin tour trip with Flippers Dolphin Tours in Panama City Beach, Florida.
Our guided Boat Dolphin Tour is sure to be the most memorable experience on your Panama City Beach Vacation. Flippers boat tours are designed to let you get up close and personal with the friendly bottle-nose dolphins that thrive in the waters around Shell Island.
Our Captains are locals who are experts on the behavioral patterns of dolphins in Panama City Beach, Florida area. They will provide an educational and fun Eco tour that your entire family will enjoy.
Flippers boats are set up specifically to give you the best chance to actually encounter Dolphins in an up-close and personal way. If it's your dream to swim with dolphins, this is your chance. Our boats have easy to climb swim ladders that allow for quick entry into the water. Snorkel gear is provided and our Captains will be happy to assist in the entire process.
We keep the groups of passengers on our boats small so that each tour can be customized to fit your specific desires. Some of your options will include snorkeling the jetties or the grass flats of Shell Island or maybe you would enjoy a walk on the beach. Sand dollars, starfish, crabs, fish & birds of all kinds are just another part of this amazing eco tour.
Read More
Although the front appendages are sometimes a shovel-like form, they contain the remains of five-digit skeletal remains that make up the pallets that the animal uses primarily as a stabilizer. The rear extensions are virtually nonexistent and consist of a pair of small pelvic bones deeply embedded in the connective tissue at the base of the tail. The dorsal fin is composed of subcutaneous dermal tissue and does not move with muscle movement. The fin or tail is also mainly dermal instead of the skeleton and consists of a pair of horizontally extending parasites. The dolphin movement is typical of the whale.
It comes from vertical oscillations of thrust, tail, and interference, and most species tested have continuous swimming speeds of up to 18.6 mph/hour and jump at these high speeds of 30 ft or more. Normal "cruising speeds" are approximately 23 to 25 miles/hour and are known to reach speeds of 30 miles/ hour if they are driving on the bow. Bow riding is when a dolphin rides the bow of a wave produced by a single-body boat.
Dolphin Groups that stay here all year round and spend a lot of time feeding and playing Shell Island waters. Sometimes when the boat is still in the water, the dolphins rise to the surface right next to us and bless us with their presence.
TOUR WITH DOLPHINS PANAMA CITY BEACH
Our Panama City tour is run by our experienced coast guard certified captains on coast guard certified vessels. Our tour uses powerful, monohull boats to safely transport you to Shell Island, St. Andrews Bay, Lower Grand Lagoon and St. Andrews State Park Panama City Beach and back to your point of pick up. Our single-bodied boats are inspected and approved by the US Coast Guard with licenses and approved captains.
Address
5505 Sun Harbor Rd Suite 99, Panama City, FL 32401, United States
Hours
Monday – Sunday: 9.00 am to 6.00 pm