Dolphin Tours & More
Panama City Beach
The waters around Shell Island are home to a large group of bottlenose dolphins. You can encounter these amazing marine mammals at home in their natural habitat on one of our Panama City Beach Dolphin Tours.
The chance to watch wild bottlenose dolphins in their natural setting is a unique opportunity that is sure to create unforgettable Panama City Beach vacation memories. That's why we are pleased to invite visitors to join us on one of our Panama City Beach Dolphin Tours for a dolphin encounter that will be the highlight of your Panama City Beach visit.
St. Andrew Bay is home to one of the world's largest resident populations of bottlenose dolphins, the iconic gray dolphins that most people are familiar with from television, movies, and marine parks. The dolphins of St. Andrew Bay are wild animals but they are accustomed to the presence of people and it is common for boaters on the Bay to find themselves among a group of swimming, feeding, and playing dolphins.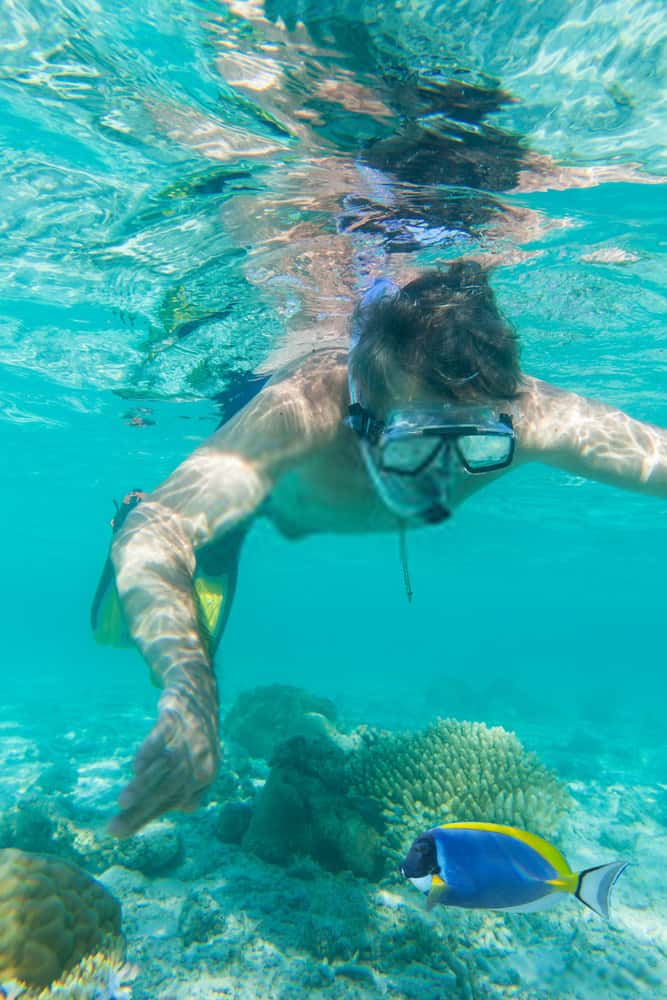 ENJOY A SMALL-GROUP DOLPHIN TOURS IN PANAMA CITY BEACH
Snorkeling on St Andrews Bay, Panama City, is particularly suitable for amateur swimmers because the water is often open, calm, shallow, and full of life. People of all ages and expertise are welcomed for an awe-inspiring lifetime experience in the water with us.
Safety is our priority and our tours always offer an experienced crew with the highest discretion for safety. Our comfortable boats offer in-water stairs for water-level input and safe return to the deck.
All snorkelers are protected in water and can come and go as they please when they are in the snorkeling area. Feel comfortable knowing that your family is not only safe but are living the best time of their lives!
Our knowledgeable and friendly Captains and crew are with you throughout your adventure.
For your comfort and safety, our reliable and secure boat facilities are always with you.
In general, our dolphin tours in Panama City Beach  includes:
Dolphin encounters
Wildlife encounters
Snorkeling (including mask, pallet, snorkel)
A stay on Shell Island
Iced cooler with drinks and snacks (you can bring your own BYOB, snacks and other stuff too)
A small group of up to 6 passengers
Knowledgeable Captain and Tour Guide
Contact us for more details about our tour. Remember that each round is a little different because we don't control the main nature.
SEE THE SIGHTS OF ST. ANDREWS STATE PARK, SHELL ISLAND, & ST. ANDREW BAY
Our Panama City Beach Dolphin Tours are limited to six passengers per trip. This lets our guests explore St. Andrew Bay in comfort, interact easily with the tour captain, and get a close look at the dolphins. You can take pictures, shoot video, and ask all the questions you want as your captain brings the tour boat as near as possible to the dolphins while being respectful and careful not to cause them any stress or harm.
RATE AND TOUR INFORMATION
We are risk-free family-friendly people and welcome children of all ages. Our coast guard certified captains, crew, and boats stay at the landing site during your visit to the island. Call at 850-400-6464 today for reservations and more information!
Embrace the beauty of Panama City as you surf in the hottest island of Florida with us.
Remember to share your experience, follow us on our social media and let everyone keep yearning and envy over your luscious trip.
We are available seven days a week, 12 months a year.
Due to the heavy demand for dolphin & snorkeling tours in Panama City, we request you to book your reservations at least a few days ago. Please book online.
Florida Dolphin and Snorkeling Tours
The Best Day of Your Holiday Awaits
Personalized tours and training experiences
Panama City offers dolphin tours as educational experiences, providing a better understanding and appreciation of wildlife. We are an environmentally friendly tour and are taking steps to prevent us from disturbing or damaging any wildlife. Dolphins will thank you for choosing an eco-tour outfit that cares, and We do it.
Shell Island Wildlife, Dolphin and Snorkeling Tour
In our private snorkeling tours, we only take the people from your party. We get six or fewer groups. Your group owns the boat. This allows you to customize the tour as you wish!
You can take group tours with other guests onboard. We try to fill the boat for up to six people per boat.
Our Two-Hour Dolphin and Snorkeling Tour is a combination of a Dolphin Tour, a Snorkeling Tour, and a Shell Island Tour. Panama City Dolphin & Snorkeling Tour is for all ages. We usually start the adventure by taking a cruise, pointing to slightly different wildlife, attractions and local history from St Andrew Bay, and then we see our local Atlantic Bottlenose Dolphins in the Gulf of Mexico. Then we travel around Shell Island and Panama City Beach, which seek and define all kinds of marine life. You will also have the opportunity to snorkel and visit Panama Island.
Our snorkel tours include masks, fins, snorkels and life jackets. Our tour guides will teach you everything you need to know about snorkeling. There are some wonderful shallow water diving spots waiting for you!
Address
5505 Sun Harbor Rd Suite 99, Panama City, FL 32401, United States
Hours
Monday - Sunday: 9.00 am to 6.00 pm